I love looking at celebrity homes, bedrooms and bathrooms especially.
It's a quirk.
B and I love watching Cribs on MTV, but we haven't seen an episode in years.
When I get my own house, I want the bedrooms and bathrooms to be the best rooms in the house. I want it to look luxurious but comfortable and cozy as well.
I used to watch HGTV a lot as well, when I had time, so I picked up a few ideas about how I want it to look. The picture below is one of my inspirations and I hope that one day B and I will have that room in our very own house.
As for the comforters, pillows and bed linens, that's not a problem because I always buy new sets of bed linens and stuff whenever there is a bed linen sale in our city. I love shopping at HomeWorld and Our Home in SM Department Store, just because it's convenient and the bed linens are imported.
Anyway, check out these celebrity bedrooms I found online.
Somehow I thought Miley Cyrus' room would look darker and perhaps a bit more "rock-and-roll-ish" than this.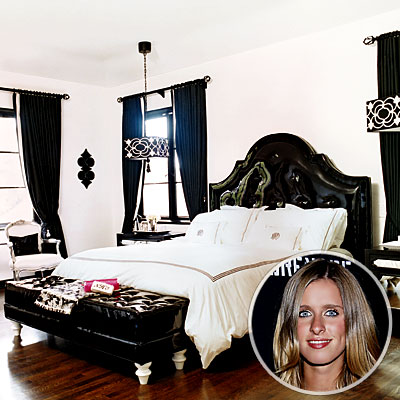 However, that is just how I imagined Nicky Hilton's bedroom will look like.
What's your favorite part of your house?